In the heart of Sainte-Mère-Eglise, in front of the famous bell tower on which the mannequin representing John Steele is hung, the Airborne Museum will make you live and understand the events of the D-Day through the American parachutists, from the preparation in England to the liberation and the impact on the civilian population
Waco Building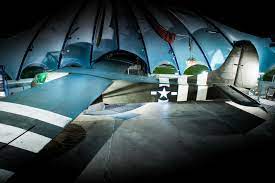 Discover the only example in France of a Waco glider. More than 500 gliders were used to transport nearly 4400 glider soldiers, hundreds of jeeps, and tons of equipment to Normandy on D-Day and the days that followed. A rich collection of moving objects also allows you to discover the history of the Normandy landings.
C-47 Building
The C-47 building is dedicated to the preparation of D-Day and to the events preceding the Normandy Landing. It presents an authentic C-47 aircraft that took part in the operations of the Normandy Landings and the Second World War. It allows, in an immersive way and through numerous objects of collections, to discover the birth of the American paratroopers, the history of the first airborne operations, the role of the pathfinders, the operation Fortitude, or the history of the C-47 planes…
Nota Bene: This building, currently undergoing restoration, is not open to the public. Opening planned for the end of July 2021.
Neptune Operation Building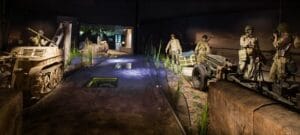 Immersion, sensation and emotion will be the order of the day during your discovery of the Operation Neptune building. In the middle of the night, you will board a real C-47 plane in England alongside paratroopers of the 82nd Airborne Division, and plunge into the heart of the battle of Sainte-Mère-Église and the terrible fighting that followed in the middle of the marshes and hedgerows.
The Histopad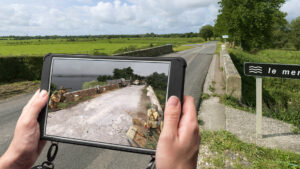 A Histopad tablet is given to you at the entrance of the museum, transporting you to 1944 throughout your discovery of the Airborne Museum. Dive into the heart of June 1944, relive immersive scenes: the Waco glider, the battle of La Fière or the Colombières hospital come to life before your eyes.
End your visit with the Ronald Reagan Conference Center, which houses a temporary exhibition and a moving 20-minute documentary on the American paratroopers.
Good deal!
Here at Normandy Discovery Tours, we are committed to making your discovery of the D-Day and Battle of Normandy museums a priority, that is why we have built a partnership with the Airborne Museum. To offer you the best possible hospitality, we propose you to visit this museum at a reduced rate if you book one of our private guided tours (van 9 seats).
For more information, contact us.
But that's not the end of the story! Book your jeep rental with Jeep Adventure, and visit the D-Day Experience for free!