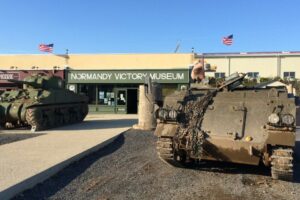 The Normandy Victory Museum is one of the must-see museums in Normandy dealing with the Second World War. If it is worth a stop, it is because it deals in detail with the Battle of the Hedges which took place in the summer of 1944 in the Normandy bocage. An event that deserved to have an entire museum devoted to it, so important and strategic was it that it left a lasting impression on the memory of the locals and the soldiers involved in this battle.
In about twenty scenes, in the middle of an exhibition of more than 10,000 authentic collection objects, our museum invites you to a moving journey alongside those who lived and made history. Whether they were combatants or civilians, national heroes or everyday heroes, we pay tribute to them.
The Battle of the Hedges, a major event in the history of the landings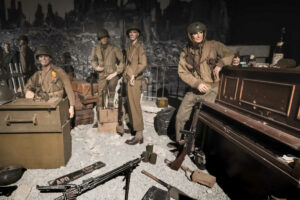 It took fifty days after D-Day to finally bring the Battle of the Hedges to an end and be recognized as a success. Fifty days of fierce fighting that was costly to soldiers on all sides and to Norman civilians. This is what we wanted to tell and explain to our visitors in a chronological, lively and immersive way. With two major objectives: to make known and to pay tribute.
Normandy Victory Museum is our partner:
Here at Normandy Discovery Tours, we are committed to making your discovery of the D-Day and Battle of Normandy museums a priority. To offer you the best possible hospitality, we propose you to visit this museum at a reduced during a private guided tours (van or jeep).
For more information, contact us.