DISCOVER THE CITY OF HONFLEUR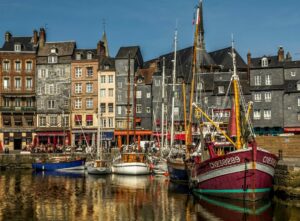 We put at your disposal a vehicle with a Driver-Guide to allow you to discover and visit a city of outstanding charm. Honfleur is a picturesque town, a mecca for tourism in Normandy, which will delight you with its half-timbered houses and mansions. Stroll a few hours in this small port with an undeniable historical past, discover the Old Basin and its boats, lined with restaurants. Located near the Seine estuary, whose colours inspired famous painters such as Monet, Courbet or Boudin, Honfleur is nicknamed the "City of Painters" and of Impressionism. You can discover classical and contemporary art galleries while getting lost in the cobbled streets.
In order to enjoy your visit, we advise you to spend 4 hours in Honfleur. Our driver, will be at your disposal to answer your questions during the trip and will be ready to drive you back to the pick-up point.
This offer is not a guided tour, we propose a shuttle bus that will take you to Honfleur. If you would like a guided tour of the city, we can organise your visit with one of our partners.